Wings and Wheels Open Day
Sunday 20 August 2017
Grafton Aero Club will be hosting the 5th annual Wings and Wheels Open Day again this year. As with previous years there will be a variety of clubs and individuals  exhibiting their winged or wheeled pride and joy.
These range from Hot Rods, Classic, vintage, sports, touring and race cars, plus go-karts, motorcycles, model aircraft, etc. There are also exhibitors and demonstrations of Stationery engines, blacksmiths and various things from the Mens Shed.
This is the first full year since the South Grafton Aerodrome Aircraft Hangar Owners Inc became the aerodrome operator. The grass is now regularly mown and the runway has recently been resealed and widened, perimeter fencing upgraded and drainage improved. The areodrome has never looked better.
Last year we had over 40 aircraft fly in to add to the local aircraft on display. Again we hope to have warbird adventure flights available as well as aeroplane and helicopter joy flights. Also this year we may see some Seaplanes after a visit from a dozen or so Amphibians from Australian Seaplane Pilots Association last Christmas.
The event is as always free for exhibitors and the public. There will be a gold coin donation with the charity this year being the Oncology Ward at Grafton Base Hospital.  Further details will be advised as they come to hand.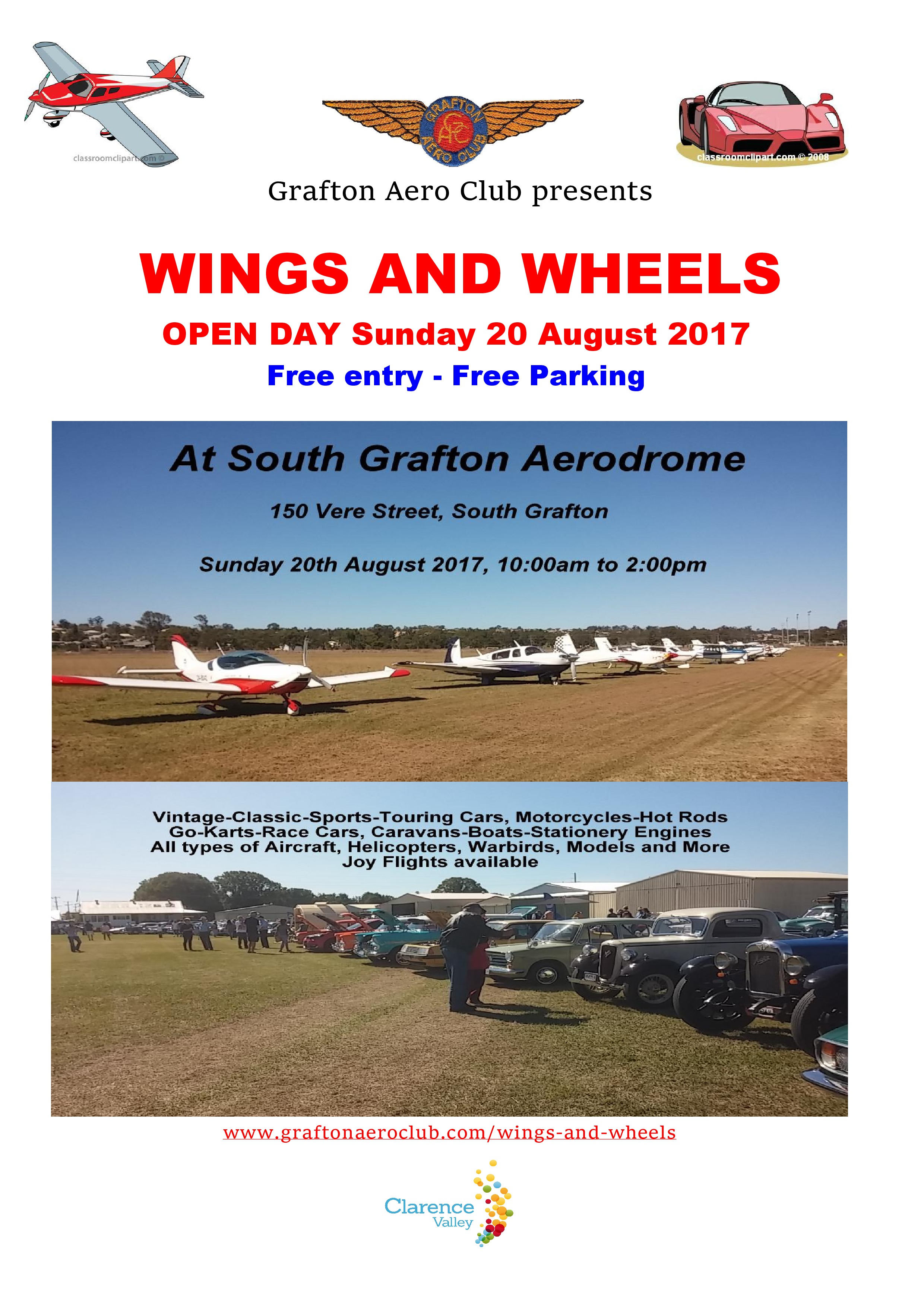 Grafton Aero Club – Risk Management Plan
Title:                           Wings and Wheels Open Day
Date:                          Sunday 20August 2017
Time:                         10:00am to 2:00pm
Participants:           
Grafton Aero Club
Coffs C/ex Classic and Touring Car Club
Coffs Harbour Veteran and Vintage Car Club
Grafton Vintage Motor Vehicle Club
Grafton Historical Motorcycle Club
Grafton Go-Kart Club
Grafton Mens Shed
Grafton Model Aircraft Club
Mark Awad with Winjeel Warbird
Aussie Air – Ewan McRae with C 172
Hot Rod Club
Pilots of Visiting Aircraft
General Public
Cost:                          There is no charge for those attending. A gold coin donation collection  to benefit the Oncology Ward, Grafton Base Hospital to be made.
Sponsor:                  Clarence Valley Council
Insurance:                All clubs have their own current Public Liability Insurance of $10,000,000.00 each. SGAAHO has $20,000,000.00 Public Liability cover over the total Aerodrome. Current Insurance Certificate attached.
Format:                     The car clubs and Aero Club will have static displays of aircraft and motor vehicles in a cordoned off area where vehicle and aircraft operation and movements are prohibited for the duration of the open day. These areas are detailed on the attached plan. The General Public will be confined to the static display areas with only those taking Warbird adventure flights or Joy Flights allowed into the aircraft pickup/drop off area for the duration of the open day.
Aircraft Movements, parking and tie down are limited to the right hand side of the taxiway as seen from Vere Street as shown on the attached plan.
Appointed Parking Marshals will wear fluorescent vests to manage the set up and dispersal of the static aircraft and motor vehicle displays. Exhibitors are requested to be on site by 9:00am and from this time car parking marshals will direct the public to angle park on the southern side of Vere Street ensuring that entrances and the emergency access are kept clear.
Parallel parking is available on the north side of Vere Street as well. Parking signs will be erected and bollards placed at the 3 access ways to ensure these are kept clear.
Appointed Aircraft Movement Marshals will wear fluorescent vests and will direct visiting aircraft from the taxiway to the parking and tie down areas to the left hand side of the taxiway as seen from arriving aircraft, via the first exit to the south of Hangar V. Aircraft Movement Marshals will manage engine startup and taxiing through the parking and tie down area on to the taxiway.
The Warbirds and Joy Flight aircraft will have a pickup/drop off location immediately to the south of Hangar V
Aircraft pilots will comply with all directives provided by Aircraft Movement Marshals while in the confines of the parking and tie down areas. Once cleared onto the taxiway aircraft pilots will comply with all CASA regulations for uncontrolled aerodromes and standard VFR procedures.
Participating Pilots and the General Public who are taking Trial introductory Flights, Warbird Flights or Joy Flights will be permitted to cross into the designated area for the purpose of accessing the aircraft as directed by Aircraft Movement Marshals. The General Public will be allowed into the Aircraft Parking and Tie Down areas only under the direct supervision of Aircraft Movement Marshals.
Grafton Aero Club
5 July 2017
Wings and Wheels Open Day
14 August 2016
The weather was perfect this year much to our relief as it had been overcast with showers in 2015. This year we had a number of vehicles from the Coffs Harbour Veteran and Vintage Car club to add to those from Grafton and the Coffs CEX club. Exhibitors began to arrive shortly after 8:00am and the first aircraft arrived before 9:00am. Pretty soon the whole aerodrome was buzzing with the sounds of aircraft in the circuit, aircraft taxiing in and cars, motor bikes, stationary engines and people everywhere.
The number of exhibitors was similar to 2015 with Vintage, Veteran, Classic, Touring, Sports and Racing Cars, Hot Rods, classic and vintage motorcycles, Stationary Engines General Aviation and Recreational Aviation aircraft plus model aircraft.
Mark Awad arrived in the Winjeel and began providing Warbird Adventure Flights. Coffs Harbour Aero Club Flight Training provided TIF flights as well.
Morning Tea in the clubhouse proved very popular again and the BBQs were going from around 9:00am. This year we provided Hot Ham Rolls and Mann River Burgers which proved very popular along with the standard sausage sandwich.
Over 40 aircraft flew in from around the state and southern Queensland and everyone seemed very happy and enjoyed the casual atmosphere, especially being able view the exhibits and aircraft up close. Club members were run off their feet to ensure the event ran smoothly. Even with a number of members unable to assist due to Winter ills and other commitments, there was not a single issue throughout the day and we managed to raise over $1,200.00 for the Childrens Ward of Grafton Base Hospital, $500.00 more than last year. While visitor numbers are difficult to determine with people coming and going all the time we estimate around 2500 people attended throughout the day, many of these were families with children.
Some photos follow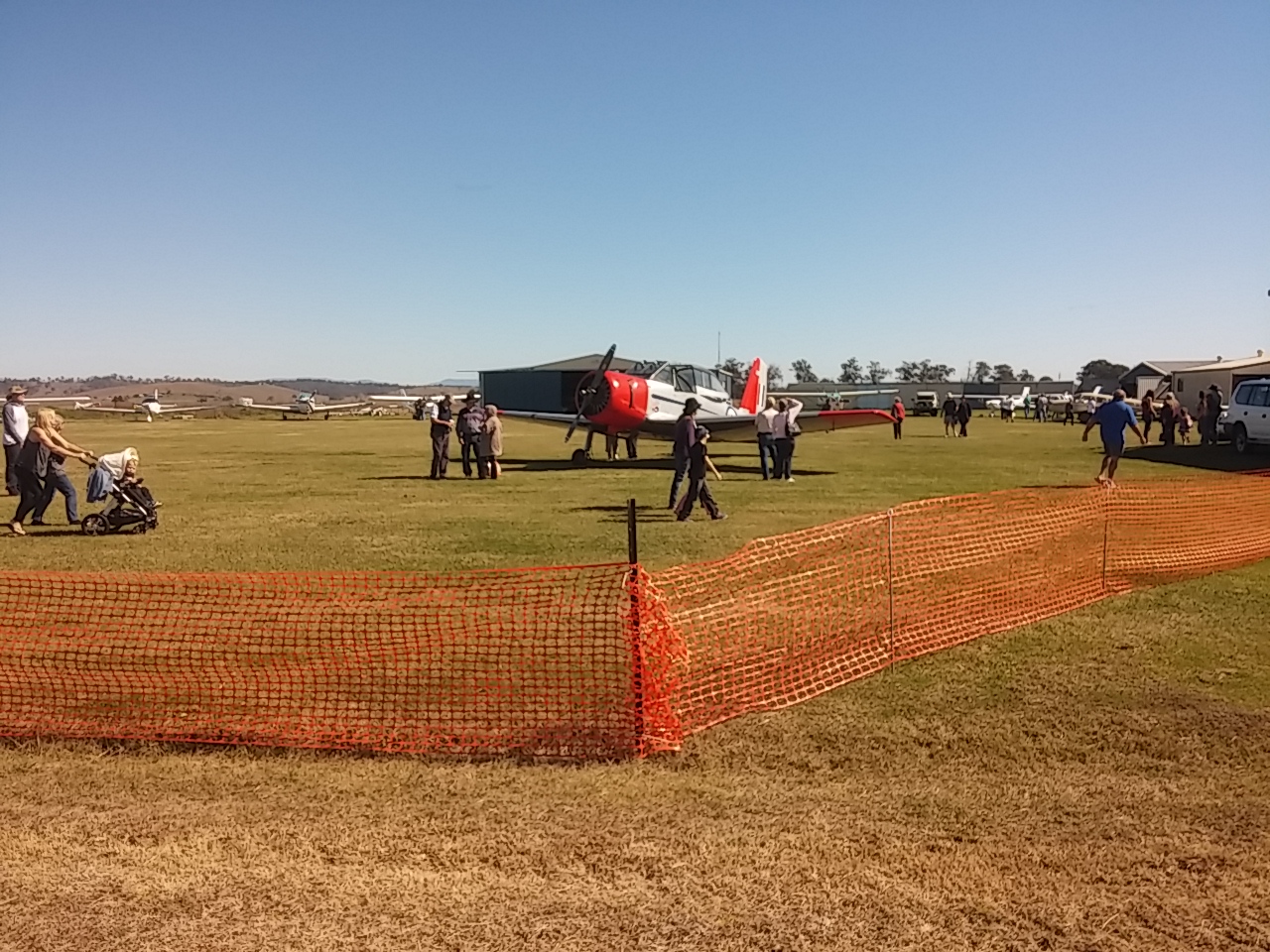 Wings and Wheels 16 August 2015
Wings and Wheels 2015 was bigger and better than the highly successful 2014 event. As well as Vintage, Classic and Touring Cars, Stationery engines, Model aircraft, Sports and Recreational aircraft there were Classic & Vintage Motorcycles, Vintage Aircraft, Wooden Boats, Go-Karts, Vintage caravans, and a demonstration of their craft from the Artist Blacksmiths.
Troy Smith from Caboolture with his Beech T34 Mentor provided Warbird Adventure rides and Joy rides were provided by Aussie Air from Ballina.
While the weather was threatening leading up to the even and there were showers, this did not damped the enthusiasm of the exhibitors or the large crowd of visitors estimated to be around 2000 who attended. The weather did prevent a number of aircraft attending but more than 20 did make it. The morning tea with cakes and savouries was very popular as were the barbecues providing sausage sandwiches, steaks sandwiches and hot ham rolls. All in all it was a great day with around $700.00 raised for the Childrens Ward at Grafton Base Hospital. The club added additional funding from food sales and a cheque for $1000.00 was presented to the Hospital.
Some photos of the event follow.
Wings and Wheels 31 August 2014
What a day it was. Morning Tea was served to Car Club members & flyers from 10:00 am.
We'd planned to start the barbecues at around 11:00 am but there were hungry people there at 10:00 am. Steak & sausage sandwiches, hot ham rolls and cold drinks were in high demand for the next 3 hours.
Club member Andy Ski put on an aerobatic display in his Skybolt at lunch time and aircraft kept coming and going.
Around 1000 people attended the event and there was something for everyone.
For the record there were 36 Aircraft, 4 Gyrocopters, 24 Vintage Cars, 28 Sports Touring and Classic Cars, 11 Motorcycles, 6 Stationary Engines, 5 Race Cars and one each Vintage boat, caravan and tractor.